Vegetables and Plant Nursery
Travel to Farm offers various intern placements within vegetables, small plants, flowers, and trees. The diverse production arises from our mild climate enabling various crops to grow well in Denmark.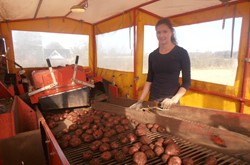 Over the last decade the Danish production of vegetables has increased; both organic and conventional productions. Approximately 13.000 hectares are used for vegetables whereto the primary production is carrots and onions, but also crops like potatoes, cucumbers and lettuce are substantial in Danish horticulture.
If the Danish vegetable or plant production sounds like something for you; please check for partners within your country here. We look forward hearing from you.