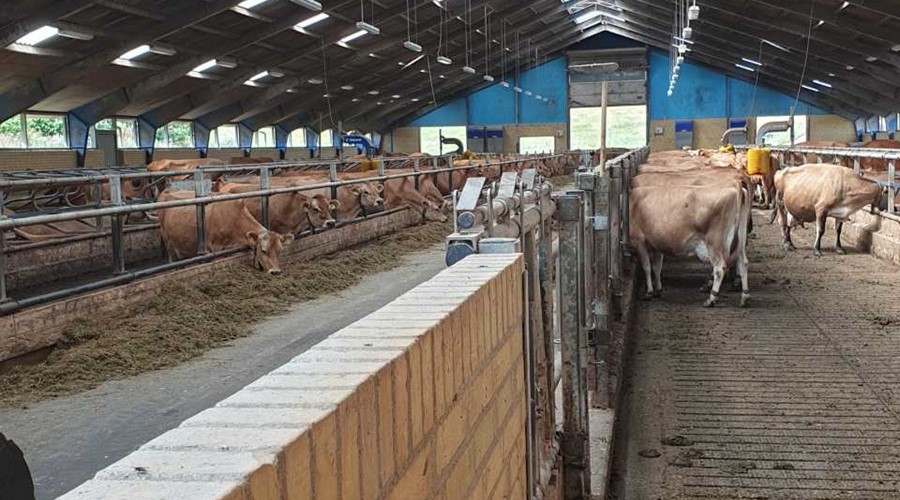 How to apply
If you would like to become a trainee on a Danish farm you must apply through our corporation partner in your home country. You can find our list of partners below. Please note that only applications received through our partners will be accepted. Please check below if you meet the requirements to get a Danish residence permit for agricultural trainees. We look very much forward to read your application.
Our modern Danish farms are always in the need for competent and skilled help – Also from abroad so, if you match the below described requirements, we would very much like to receive your application from our partner in your country.
In order to join Travel to Farms program you have to:
Be between 19-29 years old
Speak good English and/or German
Be a Student or post graduate from an agricultural college, agricultural technical school, or an agricultural university.
If you are from outside the EU, you must be a student and pass a language test
Have proved experience of full-time practical farm work in the requested type of farm
Preferably have a driving license for car as well as for tractor
Be prepared to stay for 9-12 months (stays shorter than 4 months are not accepted)
Be prepared to work 37 hours/week in relation to obtain practical experience in Danish farming
In order for us to find you the best possible placement in Denmark it is important that you specify what you wish to work with and that you already have some experience within this field of work. You can find our different placement categories here. So, if you are interested in an agricultural training stay in Denmark, you must apply through our partner in your country – Please find our list of partners below. They will advice you and equip you with our application form.
We, at Travel to Farm, look forward to seeing you in Denmark.
Austria
Österreichische Landjugend
Wiener str. 64
3100 St. Pölten
Tel. 0043 2742 259 6303
e-mail: yoin@landjugend.at 
Brasil
Anna Korinna
Rua João Passos, 1223 Bairro Centro 
Botucatu, São Paulo
Brasilien
Tel. 001433547990
E-mail: anna@worktrip.com.br
Bulgaria
NBAF
Kv " republika 29-B-2
Sliven 8800
Tel. 00371 7381346
e-mail: nbafl.bia-bg.com  
Equador
Altropico
Santiago Levy Oritz
Casilla postal: 17-15-144C
Quito
e-mail: intercambios@altropico.org.ec 
France
EXPERIENCE INTERNATIONALE
7, Rue Decres Bureau 15
75014 Paris France
Tel. 0033 1 4315 0948
Odyssee-Agri
Jean Marie Poirier
Le Bourg
53110 La Baroche Gondouin
Tel. 0033 (02) 43085312
e-mail: info@odyssee-agri.com 
Germany
Schorlemer Stiftung des DBV
Claire-Waldoff-Strasse 7
D-10117 Berlin
Tel. 0049 30 319 04 214
e-mail: a.winterberg@bauernverband.net 
Hungary
Rural Exchange Training Abroad
Zoltan Angyal
16 Komaromi Street
2100 Godollo
Hungary
Tel. 0036 20 92 94 669
Office tel: 0412 424509
e-mail: farmwork1@invitel.hu  
Japan
JAEC (The Japan Agricultural Exchange Council)
The Japan Agricultural Exchange Council(JAEC)
27-14Nikken-Align Bldg.8
Nishikamata 5-Chome Ota-ku Tokyo 144-0051
Tel. +81 3 5703 0251
e-mail: europe@jaec.org 
Latvia
Latvian Young Farmers Club
Raina Lela 20-405
Jelgava LV-3001
Tel. 738 1346
e-mail: jzk@jzk.lv 
Latvia University of Agriculture
Liela Iela 2
3001 Jelgava
Tel. 302 3685
e-mail: foreign@cs.llu.lv 
Moldova
AGREX International
Office 5, Pusjin Street 41
MD-2005 Chisinau
Tel. 00373 22592054
e-mail: dumitrashko@mcc.md 
The Netherlands
Stichting Uitwisseling
Agency for Agricultural Exchange and Studytours
Drechterwaard 10A
1824 EX Alkmaar
Tel. 0031 7258 96 144
e-mail: info@uitwisseling.nl 
Poland
Agricultural University
28 Wojska Polskiego st.
60 637 Poznan
Tel. +48 61 848 76 70
e-mail: rrsp@owl.au.poznan.pl 
Romania
Agroverde
535500 Gheorgheni
Str. Miro Cristea Nr 9/A/10
Jud. Harghita
Tel. Fax +40 266 361 453
e-mail: agroverde@knet.ro 
Com Invest-Work Study Abroad
Office Cluj-Napoca
Tel. +0740 173 282
e-mail: job.extern@gmai.com 
Russia
Center for Training and Education Abroad "Alliance XXI"
Reytovskaya str., home 4, app. 226
11 1539 Moscow
Tel. + 7 495 347 32 95
e-mail: agrostazhirovki@gamil.com 
RSAU-MTAA
Mrs. Demidenko Nina 49,
Timiryazevskaya str.
127550, Moscow
Tel: +7 495 976-2473
e-mail: intertim@timacad.ru 
Slovakia
The Slovak University of Agriculture in Nitra
Faculty of Horticulture & Landscape Engineering
Tulipanova 7
949 76 Nitra
Tel. +42 187 526 637
e-mail: paulen@afnet.uniag.sk 
South Africa
WAX (Worldwide Agri Exchange)
Physical address:
23 Nettleton Street
Brandwag
Bloemfontein
9301
Postal address:
PO Box 100916
Brandhof 9324
South Africa
Tel. +27 51 444 6200
e-mail: wax@pixie.co.za 
Sweden
JUF
Boks 2022
641 02 Katrineholm
Tel. +46 150 50 390
e-mail: juf@juf.se 
Switzerland
Agrimpuls
Laurstrasse 10
5200 Brugg
Tel. 0041 56 462 51 44
e-mail: info@agroimpuls.ch 
Agroverde
Kindhauserstrasse 3
8962 Bergdietikon
Tel. 0041 79 780 11 80
e-mail: agroverde@agroverde.ch 
Thailand
Dept. of Vocational Education
Ministry of Education
Ratchadamnoen-nok Avenue
Bangkok 10300
Tel. +66 2281 5555/1406
e-mail: nongnitwangtrakul@hotmail.com 
Ukraine
IAI - Inter Agro Image (NUBIP Uni)
Co-ordinator: Viktor Cherniy
10 Heroiv Oborony str, off 6
03127, Kyiv, Ukraine
Tel. +380 44 526 0466
e-mail: viktor.iai@outlook.com 
Zhitomir Region Farmers Association
Starovilska 12 str., apt. 6
Zhitomir 10030
Tel. +380 412 424 509
e-mail: info@zrfa.com.ua 
Sumy State Agrarian University
160, Kirov
Sumy, 40021
Tel. 0038 0542 22 37 15
e-mail: interstady@itk.sumy.ua 
Kharkiv State Technical University of Agriculture
44 Artema St.
61002 Kharkiv
Tlf: 0038 057 700 38 88
e-mail: khstua@lin.com.ua 
Uman Agraian Youth Union Organisation
Uman State Agraian University
PO Box 40,
Uman 20305, Ukraine
Tlf: 0038 067 506 24 93
e-mail: agrouman@gmail.com 
Union Forum
P.O. 5327
Lviv- 10
79010 Ukraine
Tel. +380 322 726934
e-mail: info@union-forum.org 
International Information Centre
Lysenka Str. 3, office 10
Kyiv, Ukraine, 01030
Tel. +38044 572 57 91
Office hours mob: +38098 419 97 97
Mobile: +38067 754 01 47
E-mail: iic@i.com.ua 
E-mail: interinfocentre@gmail.com
IAE - International Agricultural Experience
Volodymyr Artemchuk (Vladimir)
Oleg Fedorchuk
Office 310,184 Vatutina Str.
Zhitomir, Ukraine, 10031
Tlf: +38-0679414151
Mail: international.agricultural@gmail.com