Training in Denmark – The chance of a lifetime
Denmark has one of the most efficient farm sectors of the world. We specialize in various types of livestock productions such as pork, dairy, poultry, beef, and mink farming. Add to this, our mild, humid climate makes high crop yields possible too which, various vegetable and plant productions are thriving, with cultivation areas covering approximately 60% of the land. Increased demand and the international competition are constantly changing the agricultural business too which, Danish farms are becoming fewer and larger with specialized productions. The Danish farmers own their own processing and sales companies, and Danish agricultural products are sold all over the world. This is possible because the health status of our domestic animals is very high, and we can export products to Japan, China, and USA, among others. As a trainee on a Danish farm you will get familiar with a modern agricultural sector where you get the opportunity to improve your own practical skills and learn about the Danish farm management and the used technologies in the everyday life of the production.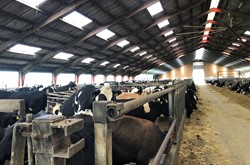 Read more about the different kinds of placements here:
Travel to Farm is a non-profit organization specializing in agricultural exchange. We can offer you a "learning by doing" program on a Danish farm and thus, you get the opportunity to get more practical experience with e.g. milking, feeding, cleaning, and tractor driving. When working "hands on" in the Danish agricultural sector you will learn more about new technologies and farm management within your field. As a Travel to Farm trainee you will get incorporated in the everyday life on a farm matching your preferences best possible. This means that you will be included and participating in the daily tasks on the farm, helping the owner and getting the responsibility that matches your evolving farm skills. Travel to Farm offers you a training period on 4-12 months on a Danish farm which gives you the opportunity to gain valuable practical experience, complimenting your education in your home country.
Behind Travel to Farm are the main Danish agricultural organizations (The Danish Agricultural and Food Council, the Young Farmer's Club, the Danish Association of Agronomists, Danish Horticulture and the Association of Agricultural Colleges in Denmark).